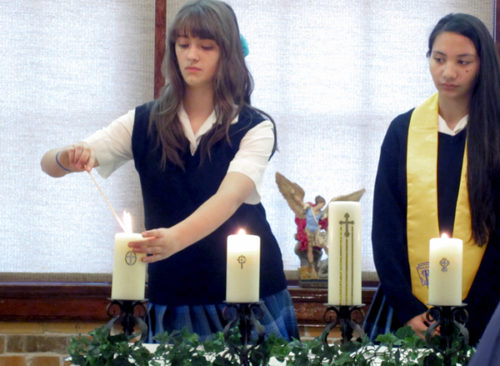 The National Honor Society was founded in 1921 to create an enthusiasm for scholarship, to stimulate a desire to render service, to promote worthy leadership and to encourage the development of character in the nation's secondary schools.
Still true to its ideals, it leads the various organizations and societies that promote appropriate recognition for students who exhibit academic achievement, leadership, honorable and admirable character, as well as service – demonstrating that the member is willing to use talents and skills for the improvement of society.
National Honor Society membership is often regarded as a valid indicator that the student will succeed in life and particularly in studies at the post-secondary level.
In September of 2004, St. Michael's Academy began a chapter of the National Honor Society. Academic excellence and character recommendations from teachers were only part of the criteria for prospective candidates. A newly formed faculty council put each candidate through a grueling personal interview to ascertain the strengths and weaknesses, goals and ideals, hopes and commitment of each individual.
In an inspiring ceremony each student lights a candle that symbolizes one the four pillars of the National Honor Society (character, scholarship, leadership and service) from a larger candle that represents Christ. By this, students acknowledged that Christ is the Beginning and End, the foundation and crown of all their efforts and actions. Then parents come forward to put a white stole on their children, receiving in return a heartfelt "thank you" from a new Honor Society member.
May those admitted be worthy members of this time-honored society and show the light of Christ in St. Michael's Academy through their ideals and accomplishments.