October 11, 2017
VIRTUE OF THE MONTH:
Gift of Fear of the Lord
Saint to Imitate:
St. Venantius
FATIMA CONFERENCE - Fatima Conference begins on Wednesday, October 11th through Sunday, October 15th.
The 100th anniversary of Our Lady of Fatima is Friday October 13th. There will be a Pontifical High Mass at 8:00 a.m. that morning. The school children are expected to be here by 7:50 a.m. because Mass will begin at 8:00 a.m. The Rosary procession will be in the evening at 6:30 pm. ALL STUDENTS in grades 4-12 are involved in the Rosary Procession and need to be at the Mount by 5:50 p.m. The each have a spot in holding a life size rosary and they are all needed. They must wear their school uniform and no hoodies or casual clothes or jackets.
FRIDAY, OCTOBER 13th – school will begin at 7:50 a.m. Please have your children here by 7:50. There is an 8:00 a.m. Pontifical High Mass and they are attending.
Grades 4-12 PLEAE READ ABOVE NOTICE. Grades 4-12 are required to be back at the Mount Friday, October 13th at 5:50 p.m. to take parent in the life size rosary procession. Each student is holding a piece of this giant rosary.
PICTURE RE-TAKE DAY –picture re-takes will be on Wednesday, October 18th in the morning.
HIGHER GROUNDS COFFEE SHOP – the coffee shop here at the school is in need of more volunteers. It is about 1.5 hr once a week, training will be provided and counts towards parent hours. If we cannot get more volunteers the coffee shop won't be open as many hours.
SENIOR FUNDRAISER - TEXTILE DRIVE  – the senior class would like to remind everyone that if you are doing some  cleaning, now is the time to bag up your old or outgrown clothes and drop it off in the bin outside of the gym. PLEASE DO NOT drop off books, toys or household items, ONLY CLOTHES!
ABSENCES & TARDIES – please do not forget that you are to call the school office by 9:00 a.m. to report if your child is absent or will be tardy. This is state policy. If we do not hear from you by 9:00 a.m. we will be calling you.  You may also email Mrs. Netzel at parish@stmichaels.org or text her at (509) 953-1382.Thank you.
AMAZON SMILE - A GREAT FUNDRAISER FOR THE SCHOOL - Anyone who shops on Amazon.com can very easily help us raise money for our school by going to smile.amazon.com, and logging in with your Amazon username and password.  Select "St. Michael's Church & Academy" as your charity. This will be saved to your Amazon (or Amazon Prime) account settings.  Once it is set up, we will automatically receive a portion of all future eligible purchases.  Remember to also save 'smile.amazon.com' in your bookmarks! This can be done in addition to purchasing Amazon scrip cards! Please share this with friends and relatives! For more information, go to: http://tinyurl.com/o6vlmza
GOODSHOP AND GOOD SEARCH -  another way to help raise funds for the school just by shopping on-line.  We have partnered with Goodshop so that now you can feel great about your online shopping! Goodshop gives you the best coupons for thousands of stores like Apple, Amazon, Petco and more AND a percentage of what you spend on virtually every purchase is donated to our cause! Plus, with the Goodshop app for iPhone and iPad, you can shop, save, and give on the go.  Save money and help a good cause every time you shop! Check it out: www.goodshop.com.
FRED MYERS Link your Fred Myers reward card to St. Michael's Academy and St. Michael's receives a percentage each time you shop. Go to www.fredmeyer.com/communityrewards and link your card. Our Non-profit number for St. Michael's Academy is NPO #87019. Supporters should have their Fred Meyer Rewards Card linked to your organization! After the June 2016 customer re-enrollment period our customers who did not re-link their card with a nonprofit on Community Rewards were dropped from the system on July 1. Encourage your supporters to make sure their Rewards Cards are linked to your organization.
LIBRARY: St. Ignatius Library is open Wednesdays and by appointment. If you are interested in volunteering in the library please contact Missy Morgan 869-5853.The school children visit the library regularly on Wednesdays. Parents are welcome to check out books from the library during the week or you can call Mrs. Missy Morgan at 509-467-0986 x 115 to make an appointment for another time. 
DENNIS UNIFORM –Girls jumpers and skirts can now be ordered and purchased through Dennis Uniform. St. Michael's Uniform shop still has blouses, shirts, pants and sweaters in stock for sale. We are also pleased to tell you that the SCRIP Program offers SCRIP for Dennis Uniform in $20 certificates with a 5% rebate. Please contact Joanna Gilchrist at 993-8015 for more information. Our school code for Dennis Uniform is: ZSM032.
MICHAEL'S UNIFORM SHOP: If you need to purchase new and used uniforms from our shop, please call Joanna Gilchrist at (509) 993-8015 and leave her a message. She will call you back and make a special appointment for you if you need something. The shop also takes used uniforms in good sellable condition for store credit. Uniform Shop phone number is: (509) 465-0653. You may also place your order by leaving a message. There is a large inventory of uniforms here at St. Michael's, but if you are looking for additional sizes or pieces to the uniform, you can now order from Dennis Uniform. Dennis Uniform is located here in Spokane and we now sell SCRIP for Dennis. Our school code for Dennis Uniform is: ZSM032.
REMINDER TO ALL – DRESS CODE – there is a dress code for the building. This dress code applies to everyone, visitors being the obvious exception. If you are a parent volunteer working or helping in the building or on the playground etc…be sure to observe the dress code: Women/girls should wear a skirt/dress and a modest top. Men and boys, no short "shorts" or tank tops. We enforce the dress code for the students, so it is appropriate that parents should follow this dress code as well.
HOT LUNCH MENU & PRICES - You can print a copy of the menu from the website or there are copies available outside of the school office.  REMINDER: there is a charge if your child takes "seconds," gets an extra milk or gets a bottle of water, even if you are approved for free or reduced hot lunch. Grades K to 8th full pay lunch is $3.00 Grades 9th to 12th full pay lunch is $3.50. To help you budget, you may pre-pay at any time for your lunches. Please drop off a check with Mrs. Netzel or Mr. Drahman. Thank you. Lunch bills for this school year will now be mailed to your home so that you are aware of the balance at all times. Thank you for your prompt attention in paying your lunch bill.
Wellness Policy Notice: St. Michael's Academy Wellness Policy is on file and if you want to have a copy you may pick one up in the school office.
 BOX TOPS   - We would like to encourage people to turn in their box tops regularly so that they can be sent in before they expire. These also often include bonus labels that have expiration dates!  If they are expired, they cannot be redeemed. Please drop them off with Mrs. Netzel. We sincerely thank everyone who is helping to make this fundraiser a success! You may drop off your Box Tops or Labels for Education in the clear plastic box located in the main hallway near the main bulletin board.
 A REMINDER: Box Tops do EXPIRE, please check the expiration date.  Bonus Box Tops that you get at the checkout stand also expire, so turn them in often so we have time to submit.  Also be sure to cut out the entire box top otherwise we cannot use it. If you have BONUS Points or BONUS BOX TOPS, please be sure to cut out the entire tab around the dotted line. It must show the entire value in order for it to be valid. Thank you for your attention to this detail.
5% BACK TO SCHOOLS PROGRAM: Use our Academy ID number 70121586 every time you shop at Office Depot. 5% of your purchase goes directly to St. Michael's Academy to get free supplies.
Policy & Procedure for Cold Weather Days
Reminders for Parents and Students:
As we enter the winter months with very cold temperatures or snow on the ground, it is the school's policy that the students must have the following in order to go outside for recess:
JACKETS, GLOVES, and BOOTS (if snowing)
If they do not have a jacket, gloves, and boots (if snowing) they MAY NOT GO OUTSIDE! Students may have additional snow clothes such as hats, pants, scarf, etc…PLEASE label all articles of clothes with their name.
Students who do not have proper attire will have to sit inside the glass doors during the morning or lunch recess. We cannot have them stay in different locations in the building while the rest of the students are out in the parking lot or playground. There is only one recess monitor and she cannot be in two places at once.
Please remind the students that they should listen and obey the recess monitor, it is for their own safety. If the recess monitor indicates that they may play in the snow in the courtyard then that is where all the students will play at that time.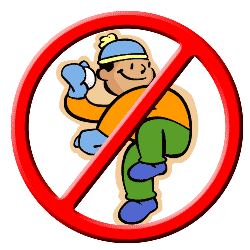 Students MAY NOT THROW SNOWBALLS at each other. This applies before, during and after school hours. No sleds of any kind are allowed.
Student will play outside when the temperature is above 20 degrees unless the wind chill factor makes it too cold. When the temperature is less than 20 degrees, students will not play outside.
If there is a delay or closure due to weather, please call (509) 467-0986 x 110
OR
information may also be obtained from KXLY News 4
If you have any questions or concerns please contact the school office.
Please remember that the heat in this building is only on for short periods during the day. If your child is cold during the day inside the building, here is a list of items in keeping with the school uniform that they can wear to stay warm.
DARK NAVY/BLUE or BLACK jacket (NO LOGOS or HOODS) may be worn in the building anytime.
Long-sleeved, white turtle neck or t-shirt under their blouse or shirt
Under-Armour that is white, black or navy blue
Leggings or tights that are navy or black
Thermals or long underwear as long as they do not hang out of the uniform unless they are black or navy.
Scarf & small gloves as long as they are black or blue 
WHAT MAY NOT BE WORN IN THE BUILDING:
(But may be worn outside)
Gray, pink, green, orange, purple or any other color of jacket 
No Logos on jackets 
No Hoodies and jackets with hoods 
No Boots – you can wear the boots into the building, but once at the classroom they must change into their school shoes.  
Also, please remind your children that if they get too hot in the building when the radiators are on – DO NOT OPEN THE WINDOWS. Instead, they may ask the teacher to open the door. We know that it is cold in the building; but as Catholics we try and make sacrifices and offer it up to save sinners and the poor souls in purgatory. Please encourage your children to make a sacrifice and not to complain about the cold.
All of the above applies to the entire Academy, grades K-12. Thank you for your cooperation.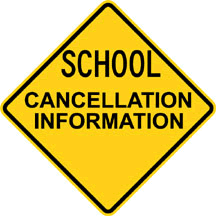 For information from the school on delays or closures due to weather, please call:
(509) 467-0986 x 119
OR check KXLY News 4.
Dates to Remember
OCT
11  Begin Fatima Conference, Oct. 11-15
13  School Begins at 7:50 a.m.
13  Grand Rosary Procession at 6:30 p.m.
14  PSAT – here at St. Michael's
18  Picture Re-Take Day
23  Begin exam week, Oct. 23-27
27  End of 1st quarter; 12:30 dismissal
27  Boy Scout Meeting 6 pm
31  All Saints Day Celebration
NOV
1    No School; Holy Day, All Saints Day
6    Report Card Night 6:39 to 8:45 p.m.
9    H.S. Career Fair
17  Musical, Cinderella Nov. 17-19
Are you a VIP? (Voluntarily Involved Parent)
Thank you to all the parents who volunteer at St. Michael's Academy. May God bless your efforts and contributions.  Are you aware of the year-round programs and fundraisers in which St. Michael's Academy is involved? For your reference, here is an index:
$CRIP: This is a very important and easy year-round fundraiser that doubles the dollars without spending a penny more than you already do for gas, groceries, etc. $crip can be purchased from the Parish Secretary or Accounting office during regular business hours (8-4) or after Sunday morning Masses. Click on the word SCRIP and you can see an updated Scrip Catalog. 
TAX BENEFIT: Did you hear the good news? The IRS has ruled that those who participate in the scrip program can now get a tax deduction. Here's how it works: you buy scrip and whatever rebate amount is generated from that scrip purchase can now be deducted from your taxes. Purchase a lot of scrip with high rebates and be able to have a sizeable charitable contribution at the end of the year. Please see Tim Drahman or Anne Marie Netzel for more information.
BOXTOPS FOR EDUCATION: Collect from General Mills products year-round to earn cash for the school.www.boxtops4education.com  
INK RECYCLE PROGRAM – we collect used printer ink and toner cartridges of all makes and types. We recycle them through Staples and the school is able to earn Staples Rewards which allows us to purchase other school and office supplies.