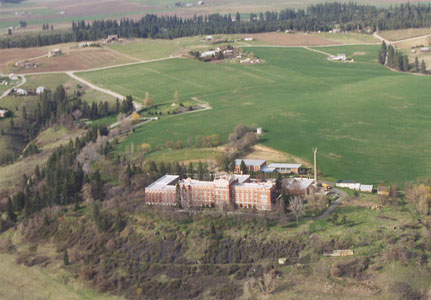 Constructed in 1916, Mount Saint Michael, or the "Mount" as it is known, has a unique history. For more than 50 years, it was an almost self-contained city for about 200 Jesuit seminarians. Then in 1968, after the changes of Vatican brought about a great reduction in the number of vocations to the priesthood, St. Michael's closed its doors as a scholasticate. The drop in vocations had made the operation of such a large facility impractical.
The scholasticate moved to Gonzaga campus on September 12, 1970, and the Mount was subsequently used as a residence for priests and a retreat center. In 1977, the Congregation of Mary Immaculate Queen purchased the building to save it from being used as a commercial facility, and it has been in their possession ever since, undergoing only a few minor changes.
Mount St. Michael reopened its doors as an educational establishment in September of 1978. The grade school was a separate entity named Holy Angels School. It was not until 1996 that the grade school and high school were combined under the name St. Michael's Academy. Some say that the school has an intimidating feel at first, but to nearly all, it truly becomes a second home, and school alumni are often seen walking the halls or sitting down to lunch with old friends. One very unique aspect of this Catholic Academy is the inclusion of the traditional Latin Mass in the schedule. This affords each student the opportunity to form a very personal relationship with God.
In the spring of 2000, Mount St. Michael was added to the National Register of Historic Places. It is also listed as a historic place in both the Spokane and Washington registers.